Complete Tapping System – Air
Our most popular sellers! A complete package includes articulating arm, tapping motor, FRL, tap chuck, tool holder, standard mounting post and air line exhaust kit. Ideal for tapping & assembly applications as well as chamfering, countersinking, drilling, reaming, deburring and more!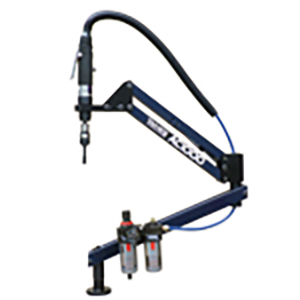 • Produce high quality threads
• Tap blind and through holes
• Reduce tap breakage
• Use conventional or roll taps
• Engineered to absorb all torque reaction
• Free up your CNC machine
• Minimal assembly required
• Tap collets sold separately
• Vertical Tapping (Rigid)
• Vertical & Horizontal Tapping (Universal)
• Reduce/Eliminate stripped or cross
threads.