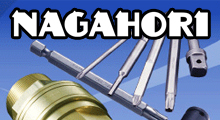 Nagahori
Nagahori Industry Co. Ltd. is a leading manufacturer of quick couplings, impact sockets and screwdriver bits. The "NAC" brand products' highest quality has been proven by our lengthy experience and will improve your works of piping connection or screw/bolt tightening.
The quick coupling is a bypass for piping in various machinery and devices.
It serves the function as a terminal of fluid piping: connection, switch, separation and interception.
Nagahori's high-quality quick coupling are widely used in household, factories, constructions, biotechnology industry and other advanced industrial fields.
Professional screwdriver bits for pneumatic and electric drivers.
The impact socket is used with an impact wrench and a power tool to tighten bolts and nuts. 
Nagahori's quality impact sockets have used in various assembly lines, and have received a thick confidence from the customers for the durability and our long experience.
TORX® is the best solution for CAM OUT and fulfils the best torque delivery.
It has become a widely adopted standard by the automobile industry and other machines' industry in the world.